Suburban Plumbing Blog
Plumbing Articles from Orange County, CA.
Relocating Your Laundry? What to Consider With Laundry Room Plumbing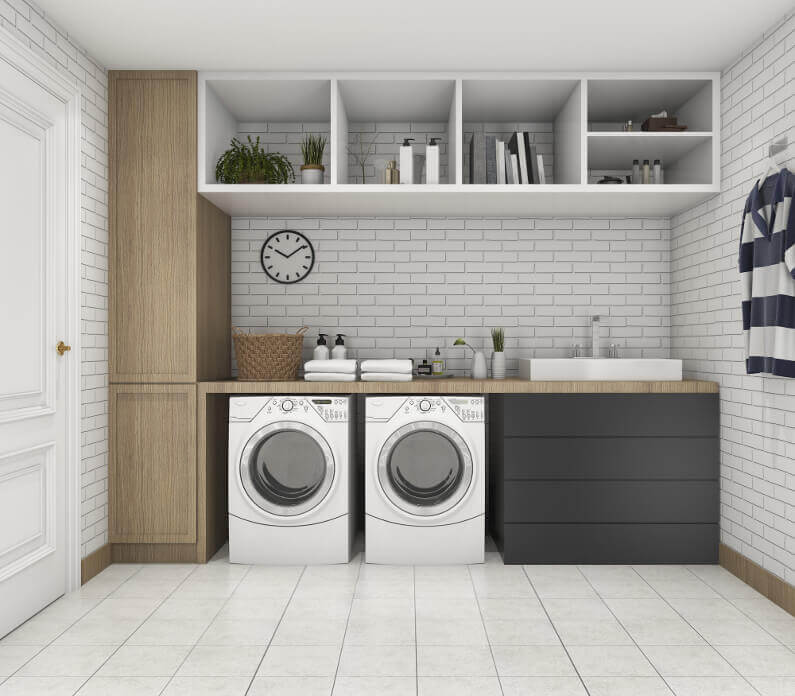 The laundry room is a unique space in any home. It's a place you that you want nearby, as anyone who has schlepped blocks to a laundromat can attest. You don't actually want or need to spend much time in the physical room.
Every other major appliance (aside from the water heater) requires you to spend time with the thing to work the thing. It's no wonder that it's so easy to forget that laundry room plumbing restricts the location of the appliance themselves.
When renovating or even buying a home, you want a convenient but almost unseen laundry room. Finding the best spot to put something you want easy access to and also want to forget about takes some planning.
Read on to learn about what to consider and how to make a practical reality of your laundry space.
Laundry Room Plumbing Realities
Planning for a laundry room in a pre-existing structure requires some knowledge of the behind-the-scenes of your home. You can't move a washer and dryer just anywhere without moving a lot of wires and pipes.
On top of that planning, you also need to obey some physical laws (otherwise a little pocket dimension would be the ticket). Make a choice up-front if you want the perfect location and have the means to get the pipes there after the fact, or if you should start with where you can get the pipes and pick the decor second.
Location
Let's consider the purposes of the laundry room location. Laundry wasn't always a thing that could be done inside the home. It wasn't until 1910 that an indoor washer was even a possibility.
Homes have existed for some time longer than that, so if it seems like the position of the laundry room is an afterthought in most architecture, it's probably because it is.
Let's break down the choice to three competing factors: accessibility, noise, and connections.
Accessibility
A centralized location for the laundry means less travel time to and from with dirty and clean clothing. If all your bedrooms are upstairs, it makes sense to cut them out of the laundry travel time.
Even so, the average person only spends a maximum of 22 minutes per day in the room. Putting the room out of the way doesn't add a lot to your day but might provide a more out of sight, out of mind aesthetic.
The laundry room functions close to autonomously, requiring only for the clothes to be moved and a few dials to be set.
Noise
If you overemphasize getting to the laundry room easily, you might have overlooked that laundry appliances make a lot of noise. They are some of the largest noisemakers in the house after the garage door devices and home theater systems.
Putting the laundry in a hallway surrounded by bedrooms offers a lot of access, but makes it harder to focus in any of those rooms while the laundry is running.
If you have studying children or sleeping babies, you notice in a hurry that walls don't do the job to stop the vibrations from wreaking havoc.
Connections
Finally, the matter of pipes and electrical connections needs to be addressed. An upstairs laundry room creates a possibility of flooding that doesn't have to exist. A burst pipe in a shower or toilet is somewhat different than a washing machine.
Upstairs floors also need to be properly reinforced to deal with the vibrations to prevent cracking critical joists and compromising the whole upper floor.
Space Required
While the minimum space required for a laundry room only has to be big enough to house the machines, there are reasons to think bigger.
In some smaller places, people opt to open hallway doors and work the machines, then close the doors.
A laundry room can expand into a room in its own right. Add in a table for folding and storage and a sink for additional cleaning or pre-soaking. It's easy to put in a few fixtures when the plumbing's already been run.
Enough space for a line for things that are better drip-dried requires a thought on the flooring material.
Plumbing
Now for the gritty behind-the-scenes component. A washer isn't just a box that rumbles, it both uses and pushes out water. To supply this water, you need a freshwater pipe and a drain pipe.
These pipes do double duty for hot and cold as well. This means they need to be certified for both without cracking or leaking. The wastewater coming from the washer also needs to flow back into the appropriate part of the house's main water system.
Next, you need a vent for the dryer to pull in and push out air. This vent also can get fairly hot and needs to be insulated to avoid starting a fire or leaving condensation building up between the floors or walls. It's best to make the dryer vent as short as possible, which means building nearer an external wall.
Power
Both machines use a fair amount of power, but the dryer is the bigger concern. You need a dedicated 220v outlet with an independent breaker.
The laundry room eats up a surprising amount of power in the home. You don't run the machines all day like heating and air, but its best to save when possible.
Consider performing a power tune-up while you're relocating the laundry room.
Insulation
Insulating the room helps with the noise issues, though only so much, as structural vibrations are the biggest component there.
Insulation mostly helps with the temperature and prevents condensation between the moisture of the washer and heat of the dryer and the ambient temperature of the home.
The water supply needs specific insulation to protect the pipes from freezing. This is more of a concern in some areas than others.
Budget
If you are working with a smaller budget, you're going to need to relocate where pipes and fixtures can be mounted easily. This means near other appliances or existing plumbing.
Service Ready
While dealing with laundry room plumbing is work-intensive, it's not too hard to understand the why behind it. Take some time to consider your wants and make a few calls. Getting your plumbing sorted is the best way to enjoy a proper relocation of your laundry room.
We have you covered when you are searching for a "plumber near me" anywhere around Orange County, California. Call us with any questions or for a free estimate by phone.
© 2017-2023 SuburbanPlumbingOC.com
– All rights reserved. –
Information on this website may not be re-used without prior written consent from Suburban Plumbing.

Monday-Friday: 8:00am to 7:00pm
Saturday: 8:00am to 5:00pm
Sunday: Closed Normal Appointments
Emergency Client Service Available
California Licensed, Bonded, Insured
C36 Plumbing Contractors License 833520