Looking for a Plumber
in Fountain Valley?
We're Your Trusted Source for
Plumbing Services in Fountain Valley, CA.
Choose a Top-Rated Fountain Valley Plumber – Suburban Plumbing CA
If you have a plumbing problem, you've come to the right place. We offer a wide range of services at great prices. We'll take care of your drains and faucets so they're not leaking anymore.
When you're dealing with a stressful plumbing emergency, don't hesitate to call the Fountain Valley plumber experts. Our licensed plumbers are here to help with any issue right when you need them.
Whether it's a sewer line replacement, toilet clog, hot water heater, or other plumbing issue, we have all the tools and latest technology to ensure that it's fixed at an affordable price.
Why Call a Fountain Valley Plumber?
Have you been dealing with leaks or clogs? Your home doesn't work right when there's a plumbing issue. Our plumbers are fully trained, licensed, and experienced in residential and commercial plumbing services.
We handle all jobs, no matter how big or small. If you're dealing with an issue in your kitchen, bathroom, backyard, washer/dryer room, or somewhere else in your home or office, we're the experts to call in California.
Unlike competitors, we provide hassle-free diagnostic testing and estimates to start every job so there aren't any surprises at the end of service. A Fountain Valley plumber will respond quickly to all service calls, including same-day service when available.
Commercial Plumbing
Gas Pressure Testing
Gas Line Repair
Water Line Re-Piping
Plumbing Fixtures
Plumbing Valve Replacement
Kitchen Plumbing
Bathroom Plumbing
Appliance Relocation
Kitchen Remodeling
Bathroom Remodeling
General Plumbing Repair
Talk to a Fountain Valley Plumber in in Orange County, CA
If you're in need of a plumber today, we have an expert technician waiting to diagnose and fix the issue. We bring all of the tools, parts, and replacements with us to ensure that your issue is fixed in a timely manner for the long-term. That's why clients always recommend our services. We never disappoint.
Some of the plumbing services we offer include:
Drain cleaning
Sewer line replacement
Faucet and sink repair
Pipe replacement and repair
Water heater installation and repair
Trenchless sewer repair
Sewer line inspection
Toilet clog repair
Slab leak detection and repair
You should never ignore leaks and faulty pipes causing issues in your residence. A Fountain Valley plumber can quickly find where the leak is and fix it within a day.
While most people believe a small leak isn't a major issue, it can quickly turn into more damage with costly replacements.
If you need a plumber's expertise, don't hesitate to call our team. We're standing by with a licensed Fountain Valley plumber who can diagnose and fix the issue quickly.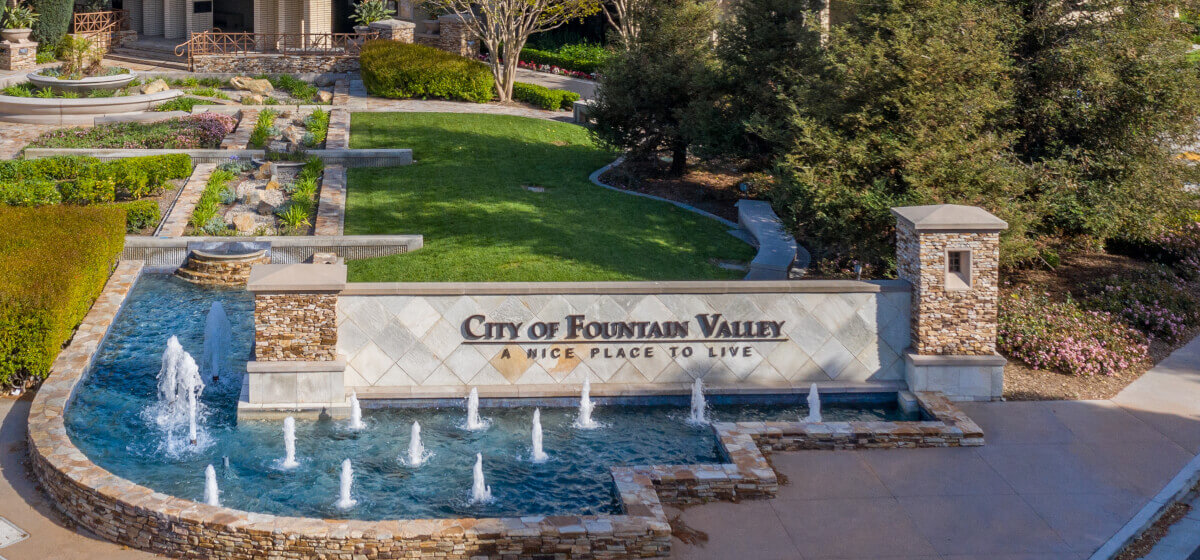 Toilet, Faucet, and Sink Repairs
Do you have issues with certain faucets and sinks in your home? What about other water fixtures, such as your toilet or bathtub? In many cases, leaks are caused by a cracked pipe. These can burst over time due to water pressure issues. A simple diagnostic test can determine where the problem is and how to fix it. If there's a clogged drain issue, we use hydro-jetting and other tools for drain cleaning.
Fixing a Leaky Faucet with a Plumber Fountain Valley Service
The first step is to turn off the water supply at the shutoff valve under your sink and remove the aerator (the screen-like device at the end of most faucets that makes them aerate). Then use pliers and tighten up any visible leaks using Teflon tape. If this doesn't work for whatever reason, try replacing one part or another—you'll find all kinds of parts available online or at your local hardware store!
Dripping Tap Problems Fixed by a Plumber Fountain Valley Service
Have you ever wondered why your tap drips? Well it's probably because there's been too much water pressure on it over time and mineral deposits have built up inside its components. This is an easy fix for a licensed plumber, so don't hesitate to call on our services.
Water Heater Replacement
You can depend on our team of plumbers Fountain Valley to respond quickly to water leaks and heater problems, such as leaks and cold water that won't heat up.
Water heater replacement and repairs are our specialty. We also install new heaters, as well as maintain existing ones. You should have your heater on a maintenance plan to avoid any surprise issues, especially if you have an older model.
Broken Pipe Repair
If a pipe has broken in your home, there are a few steps you can take to get it fixed.
First and foremost, avoid using water in that area of the house until the plumber arrives or it will only make things worse. This is especially important if you have children or pets who may play with the water and cause more damage.
Once the plumber arrives, we'll run a full diagnostic and provide a detailed estimate with all of the repair costs. Our plumbers Fountain Valley services do respond to same-day calls when needed.
For example, if it was just an old pipe that finally gave out after years of use, then upgrading older pipes may be necessary to avoid future problems down the road. However, if there were some kind of serious accident like flooding due to heavy rains outside or another situation where someone might have been harmed by hot steam then immediate repairs might be required before anything else happens again!
Leak Detection and Plumbing Repair
Our plumbing company has fixed all kinds of leaks, whether in a residential home or large office building. Leak detection can be a difficult process without the right tools. If you think your pipes may be leaking, it's important to act immediately. Leaks can lead to significant damage in your home if left unattended for too long.
Our professional plumbers will use multiple methods to detect even the most hidden and difficult of leaks, so you never have to worry that you won't get a plumbing repair. For example, sewer line camera inspection is helpful for the deepest leaks and cracks in your pipes.
Hydro-Jet Cleaning Aids in Plumbing Repair
Hydro-jetting is a method of cleaning pipes that uses a very high pressure stream of water to loosen and remove dirt from inside the pipe.
When you have hydro-jetting done, our technician will use an industrial strength hose to blast the pipe with water at about 2000 psi (pounds per square inch).
Once the pipe has been blasted clean, any residue or dirt left behind will be flushed out by regular plumbing. Hydro-jetting should not be used on any part of your home that doesn't have a shutoff valve because it may cause damage by loosening parts of the system that aren't meant to move around freely.
Sewer Line Replacement
We will clear any clogged drains and unclog your sink or toilet using the latest technology. Our plumbing repair service is second to none.
With sewer camera inspection and sewer line replacement, we take care of the most difficult problems with ease. Whether it's in your kitchen or bathroom, our plumbers know how to handle any job. That's why we're the plumbers in Fountain Valley to call first.
– If your faucet is leaking, we will fix it. Don't let a small leak ruin the rest of your home; call us for fast service at an affordable price!
– If you need a new heater installed, we can help with that too! Our technicians understand how important hot water is when trying to get ready in the morning or relax after a long day at work. Let us give you peace of mind knowing that even if something happens while you're away from home we'll be there to fix it right away!
Leaks happen without warning sometimes but they don't have to cause major damage if caught early enough — call plumbers in Fountain Valley today so we can come take care of any problems before they get worse!
Clogged Drain Repair
Clogged drains are a common problem that can be caused by many things. Our plumbing service ensures that you receive total drain cleaning to clear out all of your pipes and ensure they work properly.
Clogs can cause serious damage to your home, health issues and even dangerous situations for pets or family members.
Clogs happen when too much food gets into the drain, often in large amounts of grease or oil. They also happen when hair and other debris gets into the pipes, causing them to become clogged with dirt and grime buildup.
The most common way that people find themselves dealing with clogged drains is using harsh chemicals such as Draino® or Liquid Plumber®, which has been proven ineffective for deeper sewer problems.
These types of harsh chemicals will not only fail to remove any blockage but could also corrode metal pipes over time leading to more problems down the road.
Instead, call our plumbing service for fast response and get help when you need it. Not only are we the drain cleaning experts, but we're also leak repair professionals. We can fix or replace pipes, as well as sewer lines.
Find a Plumber in Fountain Valley
Our plumbing service is highly rated because we go above and beyond expectations of our customers–and we're happy to do so!
There are so many plumbers competing for your business in this area, but we're the only ones who come from the area, offer high-quality parts and replacements, and provide affordable rates.
This area offers a variety of things to do, whether you like to watch the Angels at Angel Stadium or head out to Disneyland Resort.
Leaks shouldn't prevent you from going where you want to go and enjoying life. If you have a trip to Oak Canyon Nature Center or another weekend trip in mind, don't forget to check your pipes and call a plumber to handle any issues before leaving your home.
How Can Our Plumbing Service Help You?
We will clear your drains and fix the leaky faucets in your home, but we offer way more value than competitors.
Our affordable rates mean that we can repair and replace any pipes, water heater, or other fixtures for a competitive price. With over 30 years of experience, we're the local company that residents and businesses in Orange County, CA depend on.
Talk to our professional team today and get fast help for all of your leaky pipes and more. You can call us any time or schedule your service online.
© 2017-2023 SuburbanPlumbingOC.com
– All rights reserved. –
Information on this website may not be re-used without prior written consent from Suburban Plumbing.

Monday-Friday: 8:00am to 7:00pm
Saturday: 8:00am to 5:00pm
Sunday: Closed Normal Appointments
Emergency Client Service Available
California Licensed, Bonded, Insured
C36 Plumbing Contractors License 833520