Looking for a Plumber
in Buena Park?
We're Your Trusted Source for
Plumbing Services in Buena Park, CA.
Rated the Top Buena Park Plumber
Trust the Buena Park, California Plumbing Experts
Does it feel like your plumbing is out of whack? As the top-rated plumbing company in southern California, we're known for our fast, reliable plumbing repairs.
We proudly provide excellent customer service and affordable rates to residential and commercial clients in Buena Park, CA and Orange County.
One of the most important things you can do is talk to a professional Buena Park plumber after a plumbing problem.
This is especially true if you're experiencing a major leak or clog that has disrupted your home or place of business.
From kitchen plumbing to toilet clogs to water heater maintenance and installation, the experienced professionals at Suburban Plumbing can handle it all.
We stock everything needed to fix any plumbing system, whether it's a leaky pipe, a full sewer line replacement, or a trenchless sewer line replacement.
Our licensed and professionally trained Buena Park plumbers are ready to answer your call.
When you are calling the Suburban Plumbing office, you'll receive fast and helpful assistance from an experienced plumber.
When you need help with your pipes, call Suburban's plumbers Buena Park to get an estimate for your home, office, or building plumbing repair services.
Commercial Plumbing
Gas Pressure Testing
Gas Line Repair
Water Line Re-Piping
Plumbing Fixtures
Plumbing Valve Replacement
Kitchen Plumbing
Bathroom Plumbing
Appliance Relocation
Kitchen Remodeling
Bathroom Remodeling
General Plumbing Repair
Why Our Plumbers in Buena Park?
Our professionals inspect all drains, pipes, sewer lines, appliances, heaters and other fixtures for any issue. You'll always receive the best service from a licensed plumber, and we have over 30 years of experience working with all brands and models.
You can call our expert plumbers for residential or commercial properties, including multi-faimly buildings. Our Buena Park plumbers also provide flexible scheduling and all of the equipment needed to resolve your problem fast.
In addition, we only finish the job when you're satisfied. That's the plumber Buena Park relies on to get things done right the first time. We've been providing high-quality plumbing service for Buena Park for many years. Our services span all types of fixtures and plumbing systems, including:
Water heater repair or installation
Kitchen sink and faucet repairs
Toilet repairs
Leak repairs
Bathroom fixture repair
Sewer line replacement
Sewer camera inspection
Hydro-jetting
Drain cleaning
All plumbing related issues
Commercial plumbing repairs
What plumbing service do you need? Our licensed plumbers are trained and certified to repair all types of pipes, systems, heaters, and fixtures. From a simple unclogging to emergency plumbing repairs, Suburban Plumbing is here to help you as quickly as possible.
Talk to one of a licensed plumber and get answers to what's causing water damage and leaks in your home. Our top rated plumbing service is here to help.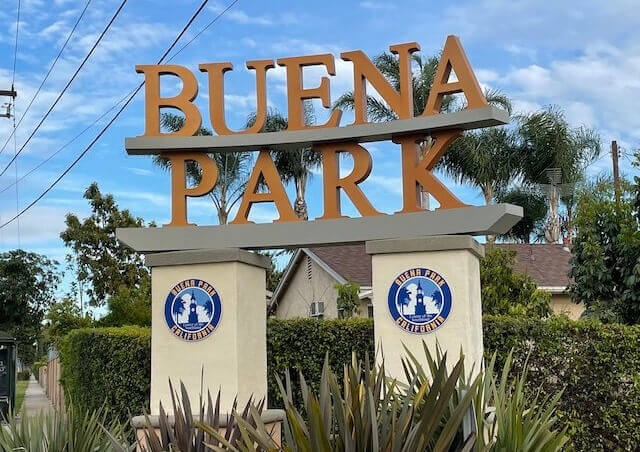 What to Expect When You Call Plumbers Buena Park Services
At Suburban Plumbing, no job is too big or small for our company to help you with. Our friendly plumbers will arrive at your home or office, immediately getting to work on solving the problem and diagnosing issues with leaks, clogs, broken water heaters, or sewer line repairs.
With leaks and clogs, repairs have to be done quickly or else you risk causing more water damage. While some plumbers will shy away from complicated, systemic problems, we welcome challenges and hope we can help you resolve issues quickly.
There are many reasons for leaky pipes and slow draining clogs. Our plumbing services include all types of drain cleaning and unclogging. With over 30 years of experience, we offer long-lasting solutions with on-brand parts that will stand the test of time, or we'll recommend the best replacement. Our goal is to make sure that you get the best fix for an honest price.
Water Heater Plumbing Services
Water heaters can be the most important part of any home or building. When poorly installed and not maintained properly, these heaters can build up pressure that causes cracks and leaks, costing hundreds of thousands of dollars if not handled in a timely manner.
We serve as the plumber Buena Park relies on for fast heater repairs. Not only do we provide the best parts and service for all brands, but we won't let small repairs become more expensive problems down the line. You can rely on our team of professional plumbers to fix your broken heater the first time.
Bathroom Plumbing Service Fixed Fast
Did a pipe burst or is your drain clogged? Bathrooms have to work properly or your home definitely won't feel comfortable. Whether it's your toilet, faucet, tub, or other drain repair, we're ready with the tools and resources to get the job done fast.
For commercial problems, we can handle all restaurants, apartment complexes, strip malls, and other large building systems. We want to help your business efficiency improve and ensure that your bathrooms are properly maintained for your customers and employees.
Drain Cleaning Services
When you get repairs by trained plumbers, you also gain access to the latest technology like hydro-jetting for seriously clogged drains and sewer lines.
If you notice water is draining slow or gurgling without draining when you try to flush, there's likely a major clog stressing your pipes. It's best to call a professional to ensure that no other damage is caused to your pipes and fixtures.
It's also important to have your drains checked, especially if you have issues with your bathroom fixtures and toilets. You should have your drains cleaned every six months if you maintain. If you notice lingering smells or water backing up into your fixtures, you definitely need to talk to a professional and likely have your pipes checked as soon as possible.
Faucet and Pipe Repairs
You never have to worry about your faucets and sinks being clogged with our number on speed dial. In most cases, problematic faucets need to be unclogged and cleared of debris, but for older homes, re-piping may be necessary if you have chronic leaks and clogs. We can also repair most major water appliances. With Buena Park plumbers, you can rely on the latest technology to clear drains quickly.
In the kitchen, we can repair issues with your faucet, dishwasher, garbage disposal, and other problems. As a local business, we've been there for clients who have small and large piping issues. You won't have to worry if you need pipe replacement or hydro-jetting to remove a major clog. Our Buena Park plumbers are always there for your home or building systems with the right tools and expert knowledge.
Sewer Line Replacement or Repair
When you call our Buena Park plumbers, we'll be ready with answers to your questions and a technician can provide expert advice after a diagnosis of the issue. We service and repair all types of sewer lines.
Sewer line replacement is a service that we offer to our customers. It's vital that your sewer lines are in good working order because if they break, it can cause major problems for your home. Sewer line replacement can be a complicated process requiring video inspection, so we recommend calling us at [phone number] if you need assistance. We'll always be there to answer your questions.
Choose the Top-Rated Plumbers in Buena Park
Looking for the best plumbing company in town? Look no further than Suburban Plumbing. We provide excellent customer service, attention to detail and high-quality parts for the top brands. We know that every job is important, and we're here to help.
As a local plumbing company, we know that a successful business stems from professional and knowledgeable service as well as friendly customer service. We always provide high-quality workmanship that you can rely on for years after the initial service appointment.
Your plumbing repairs could be done today! We offer affordable Suburban Plumbing repairs with a full assessment and diagnosis. You'll be able to review all repairs and costs before the job is ever started. You'll also receive expert advice from a licensed, professional plumber, and we only sell you what you need to fix the issue.
© 2017-2023 SuburbanPlumbingOC.com
– All rights reserved. –
Information on this website may not be re-used without prior written consent from Suburban Plumbing.

Monday-Friday: 8:00am to 7:00pm
Saturday: 8:00am to 5:00pm
Sunday: Closed Normal Appointments
Emergency Client Service Available
California Licensed, Bonded, Insured
C36 Plumbing Contractors License 833520